Continued from last week's post…
Remember that fear is the real definition of evil, or Satan, which is the perversion of human thoughts, feelings, and actions. Stop the fear pushers dead in their tracks, get educated! When you know better, they can't make you afraid using nothing but lies, any longer.
Here are ideas, websites, and organization you can follow or join to help you take control of your life. Together, we can do this! These are only but a few that I know of, I'm sure there are many more. I might create an article instead of a blog post on this later on for easy access.
From last week's post information:
Check out Last Flag Standing and :Russell-Jay: Gould.
American History Is Being Falsified for Political Narratives
Join Epoch Time TV for up-to-date and truths
We the people are the rightful master of both Congress and the courts, not to overthrow the Constitution but to overthrow the men who pervert the Constitution.

— Abraham Lincoln
The Corbett Report
The Corbett Report is an independent, listener-supported alternative news source. It operates on the principle of open source intelligence and provides podcasts, interviews, articles and videos about breaking news and important issues from 9/11 Truth and false flag terror to the Big Brother police state, eugenics, geopolitics, the central banking fraud and more. Subscribe to: Website with a lot of excellent videos, very knowledgeable on a variety of subjects.
Here is one of their videos:
How to De-Google: Protect Your Privacy!
Connect with The Corbett Report directly for Links and Solutions on this subject.
This is an organization doing a lot of work for you to protect your freedom, they expose corruptions in the government of the USA. Subscribe to their newsletter for updates on what they are doing, and what they uncovered.
Join the FREEDOM movement, join organizations working for all of us, no exceptions!
Find Banned Videos loaded with information they don't want you to know: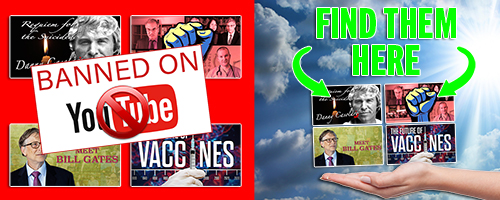 Websites and organizations to check out and join:
LONGER-TERM GOALS: DESIGN AND LAUNCH A SUPERIOR MEDICAL SYSTEM

How: with a base of tens of millions of members, we can start our own healthcare system with features like insurance plans that cover services that promote health; networks of practitioners trained to collaborate with patients in making InforMED decisions; and treatment protocols that address the cause of disease.

The New Normal: Citizens In Charge

Make Americans Free Again
As mentioned above, I am a member of the following: Truth Freedom Health Warrior. Watch following video, get involved.
Be informed! Stop following blindly.
My personal recommendation:
Pray for Peace and Healing for All the People on this beautiful planet, because wars will end when the people's consciousness has been raised.
Pray for ALL Freedom Loving People around the world! The tyranny going on in America, and around the world has got to stop. You need to take this seriously, our Freedom depends on us regaining control of our countries, and of our lives. Keep the faith! Remember, The Light of God never fails. Focus on what you want America, and the rest of the world to look like, how will the people live? Focus on how FREE everyone already is, as if we are already there – this is very important. Do what needs to be done to gain your freedom; remember, God helps those who help themselves. Then, let go and let God, and remember, positive changes rarely comes from the top, it comes from the bottom-up.
Follow me:
For more places to get the truth, be sure you check out these platforms and accounts: Click Here for more news, who to follow, and where to find them.
In Peace, Love, and Light,
WWG1WGA